Find the perfect Lawn Sprinkler
Hose End Lawn Sprinklers are the simplest way to water any lawn without a built-in irrigation system. All you need is a 12mm garden hose with the right fittings to keep away from unnecessary digging and plumbing.
Our extensive range will have your lawn covered, regardless of shape, size or type.
Weighted Base Range
Our Weighted Base range of Lawn Sprinklers offers a wide mix of watering applications with interchangeable sprinkler heads. Our heavy duty base comes standard with these sprinklers, including internal weights, 12mm Double O-ring Hose Connection and 15mm Female BSP Sprinkler Connection.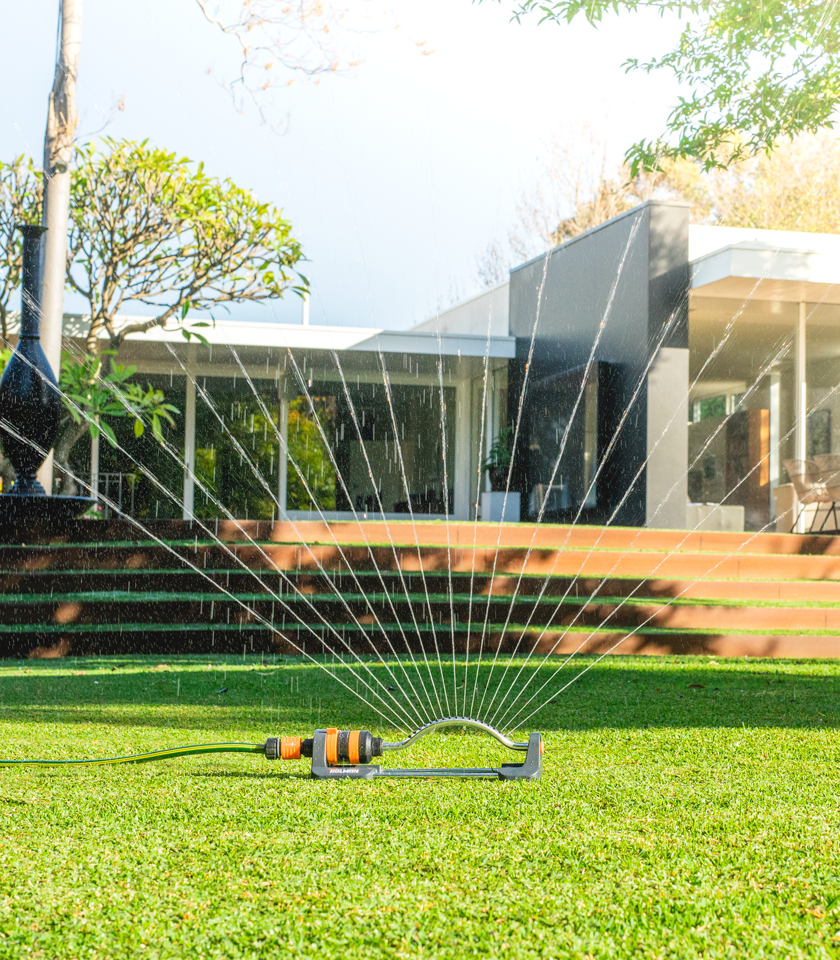 Oscillating Sprinklers
Easily water your front or back yard with any of our Oscillating Sprinklers. They feature adjustable coverage and even spray flow, all from a standard 12mm hose connection.
Impact Sprinklers
Perfect for bigger yards, our traditional Impact Sprinklers offer strong jets with high wind resistance. Water in large 360° circles, or adjust to a custom angle to water different sized corners.
Butterfly Sprinklers
Our handy Butterfly Sprinklers are perfect for small lawns and tight spaces. Light but fast droplets offer even watering with some wind resistance for great all-round coverage.
Dome & Rotating Sprinklers
The trusty Dome Sprinkler should be a staple in any backyard, with a durable housing taking up very little space in the shed when not in use.
For precise watering in average-sized yards, look no further than our Rotating Sprinklers. This light-weight and simple watering solution can come in a range of types, some with adjustable droplet size and rotor speed.
Shaker Sprinklers
For tight areas with sensitive plants, our Shaker Sprinklers are a great solution. The shaker-style sprinkler head throws large droplets at a gentle speed.
Small Lawn
Medium Lawn
Large Lawn
For more Lawn Sprinkler videos, tutorials and information, check out our YouTube Channel.